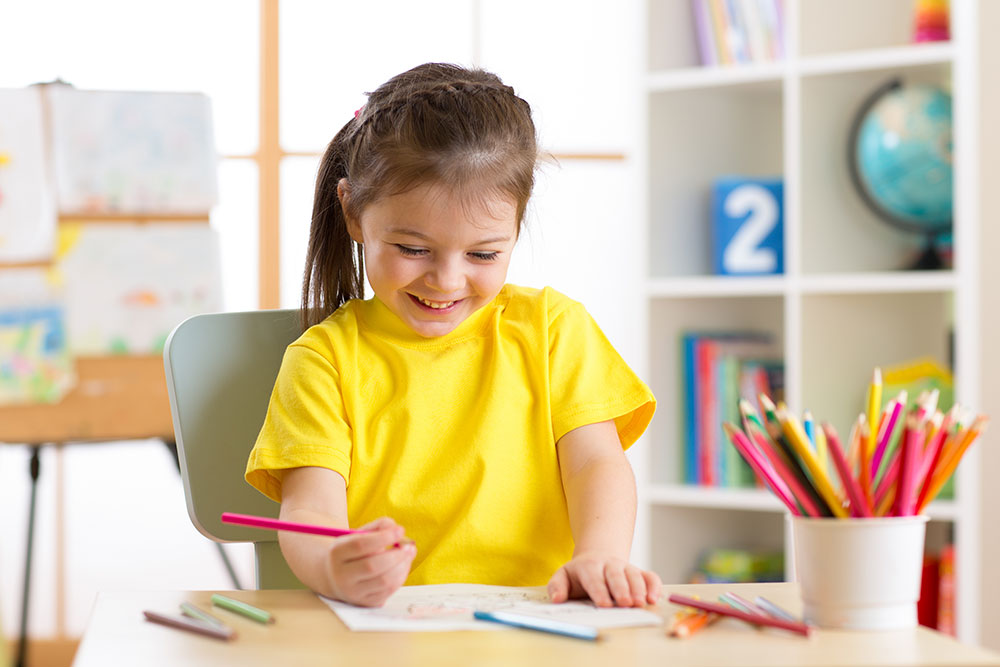 As your child approaches kindergarten, it is natural for you to contemplate his/her readiness to meet the joys and challenges of a new academic environment. Our pre-k classroom is both a continuation of our early childhood "play is work" philosophy and an intentional strategy to provide the skills and attitudes necessary for success in school.
As a pre-kindergartener at Today's Life, your child experiences social situations that foster teamwork and participates in joyful interactions that support all areas of development. The process of learning to read and write is a huge priority for us. Each pre-k child has ample opportunity throughout the day to discover the connections between letters and sounds.
Classroom
We provide a classroom that allows pre-k children (ages 4 – 5) to be themselves, be creative, use their imaginations and learn successfully.
The classroom environment is set up with a variety of interest areas, all with a changing array of hands-on learning materials and toys available. The creativity, confidence, independence, initiative, curiosity and persistence of each child are supported as they experiment with new content areas that are guided by our weekly theme. As each child makes decisions about what he/she does each day, high-level thinking skills are being practiced and perfected.
We do a daily group time where we review our colors, numbers, shapes and alphabet. We talk to the children about the weather, days of the week, months of the year, seasons, sight words and our weekly theme. We often plan our art projects off of our weekly theme and do art in small groups.
We really get to know each child and his/her learning style so that we can adapt our teaching style to each individual's educational needs. We work in small groups based on the children's ages as to place children together with similar developmental goals. We put a lot of our daily emphasis on reading, writing, math, science, geography and social studies.
As the children blossom academically, we are also exposing them to technology that will prepare them for an elementary school classroom setting. We provide computers, tablets and robotic cubelets for their exploration.
Our teachers consistently teach the children good behavior, to respect one another and use nice words. We care for and support each child socially, emotionally and physically. We are constantly encouraging the children, getting at their level and having fun with them.
Kindergarten readiness is more than just reaching a certain age. Today's Life graduates transition to kindergarten ready to learn, grow and thrive as confident and independent lovers of learning.
Health & Safety
The ratio in the preschool room is 1 teacher to 10 children. We care for children 4-5 years old. All of our quality staff members are fingerprinted and must pass a background check every 2 years. They are trained in first aid every 3 years and CPR every 2 years.
Our teachers are always available to help your child develop healthy toileting habits and other self-help skills during the course of the day. We follow strict guidelines and practice safe-sleep procedures.
Health and sanitation is very important to us. We maintain a clean environment for the children, which sometimes can be quite the job, as you well know. To achieve our high standard of cleanliness, we wash and sanitize our toys and equipment throughout the day.
Meals & Snacks
Today's Life provides a healthy morning snack, hot lunch and afternoon snack daily.
Communication
You will always know how the day went and what is going on in the room with our daily messages and your child's daily summary. We know that the details of your child's care are important to you. Beyond our daily parent/teacher communication we offer parent/teacher conferences twice a year to talk in-depth about your child's progress.
Enrichment Program
Our enrichment program is available for children on a daily basis. Click here to learn more.
Come visit us today! Click here or call (952) 225-5254 to schedule a visit! With locations in Eden Prairie and Brooklyn Park, we serve the entire Minneapolis area, including Chanhassen, Minnetonka, Bloomington, Shorewood, Shakopee, and Savage.