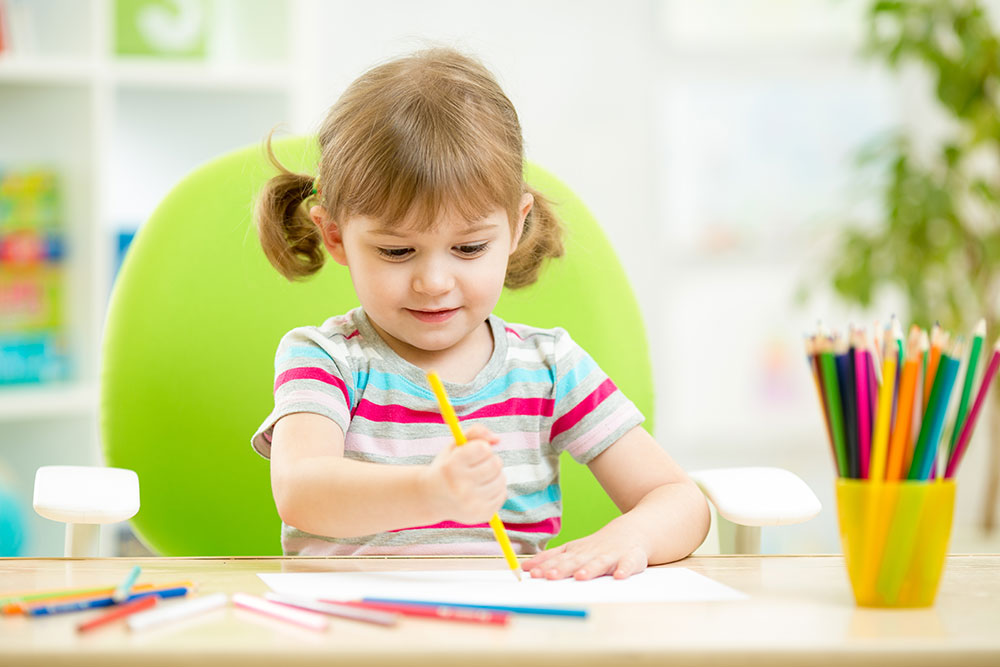 At Today's Life Schools & Child Care, we strive to provide a stimulating environment where each child is well cared for, safe, and treasured. We cater to each individual child and their specific needs throughout each milestone in their development.
Classroom
We provide a classroom that allows preschoolers to be themselves, be creative, use their imaginations, and learn successfully. Our preschool classroom is designed to tailor to the needs of children who are three and four years old.
The classroom environment is set up with a variety of interest areas, all with a changing array of hands-on learning materials and toys. The creativity, confidence, independence, initiative, curiosity, and persistence of your child are supported as they experiment with new content areas that are guided by our weekly theme. As your child makes decisions about what he or she does each day, high-level thinking skills are being practiced and perfected.
We really get to know each child and his or her learning style so that we can adapt our teaching methods to each individual's educational needs. We place the children in small groups according to their age, so as to promote learning between children with similar developmental goals. Our childcare providers put a lot of emphasis on reading, writing, math, science, geography, and social studies. We find this works best by focusing on one main topic a day throughout the week.
Our child development teachers consistently teach the children good behavior, to respect one another, and to use nice words. We care for and support each child socially, emotionally, and physically. At Today's Life, we are constantly encouraging the children by getting on their level and providing them with many opportunities to have fun and do their very best.
Health and Safety
At Today's Life, we practice a safe ratio of one teacher per 10 students. We care for children who are three to four years old. All of our quality staff members are fingerprinted and must pass a background check every two years. They are also trained in first aid every three years and CPR every two years.
Our child development teachers are always available to help your child develop healthy toileting habits and other self-help skills during the course of the day. To ensure that your child is always in good hands, we follow strict guidelines and practice safe-sleep procedures, in addition to various other safety protocols.
Meals and Snacks
Today's Life provides a healthy morning snack, a hot lunch, and an afternoon snack daily. We work with each Preschooler on their mealtime skills, including eating by themselves, using a spoon, drinking from a cup without a lid, and cleaning up after themselves.
Health and sanitation is very important to us. We maintain a clean environment for the children, which sometimes can be quite the job, as you well know. To achieve our high standard of cleanliness, we wash and scrub our toys and equipment numerous times throughout the day.
Communication
You will always know how the day went and what is going on in the room. At Today's Life, we strive to communicate with you on a daily basis about your child's progress and what activities we will be doing in the classroom, which is why we will provide you with a report each day. We know that the details of your child's care are important to you. Beyond our daily parent/teacher communication, we also offer parent/teacher conferences twice a year to talk in-depth about your child's progress.
Enrichment Program
Our enrichment program is available for children on a daily basis. From Spanish and music to obstacle courses and more, your child will have a wide range of activities and programs to enjoy!
Click here or call us at (952) 358-2020 for Eden Prairie or (763) 951-2032 for Brooklyn Park!
Preschool - also known as pre-kindergarten or nursery school - is a type of educational program for children typically between the ages of three and five. Preschools provide a safe and developmentally appropriate environment for children to learn and grow through a variety of activities, such as play, exploration, and structured lessons.
Why is preschool important?
Our preschool program can help children build important social, emotional, cognitive, and physical skills. These skills can set a foundation for success throughout their childhoods. Preschool can help children learn how to follow rules, share, make friends, and develop independence. It gives them exposure to a variety of age-appropriate activities and experiences.
How does preschool differ from daycare?
Preschool and daycare are similar in that they both provide a safe and supervised environment for children. Preschool programs are typically more focused on providing educational experiences for children, while daycare centers may focus more on providing childcare services. Preschool programs are led by trained teachers who plan and implement developmentally appropriate activities and lessons, while daycare centers are staffed by caregivers who provide supervision and basic care for children.
What is the typical age for children to attend preschool?
The typical age for children attending preschool falls between three and five years old. Three-year-olds are eligible to enroll in preschool programs. Fiver-year-olds may be ready to transition to kindergarten.
What should I look for in a preschool program?
When choosing a preschool program, there are a few important things to consider. These include the educational philosophy of the preschool, the qualifications and experience of the teachers, the daily schedule and curriculum, the teacher-to-student ratio, the school's policies on discipline and behavior management, and the availability of accommodations for allergies and special dietary needs. It is important to consider the location and accessibility of the preschool, as well as the tuition and fees.
What are some misconceptions about preschool?
There are many misconceptions about preschool, including the idea that it is not important or necessary, that it is only for children who are not yet ready for kindergarten, or that all preschools are the same. In truth, preschool can be a valuable experience for young children, helping them to develop important social, emotional, and cognitive skills that will set the foundation for their future success in school and in life. Additionally, not all preschools are the same, and it is important for parents to research and choose a program that aligns with their child's needs and learning style.
What is the educational philosophy of the preschool?
We really get to know each child and their learning styles so that we can adapt to individual styles to provide the right educational needs. We work in smaller groups based on the children's ages so they get more attention and are working at their development. We follow the High Scope Curriculum and have a weekly theme that we base our art, learning, sensory, and activities off of. During circle time we cover at least shapes, numbers, colors, letters, weather, days, months, and the week's theme.
What is the teacher-to-student ratio in the classroom?
What is the daily schedule like for the children?
Each classroom has an individually set class schedule that the teachers follow.
What is the process for potty training at the preschool?
We continue to work on potty training if a child entering our classroom is not yet potty trained. (note: payment will follow toddler tuition rate until child is 100% potty trained)
What is the curriculum like, and how does it align with state early learning standards?
Our teacher's prep everything over a week in advance so that everything is prepared and ready to go for the week. Beyond our daily worksheets and art projects we emphasize a lot on reading, writing, math, science, and geography. *We find this works best by spending a day a week focusing on each of these main topics. (Monday: reading, Tuesday: writing, Wednesday: math, Thursday: science, Friday: geography) We are constantly teaching the Preschoolers good behavior, to respect others, and use nice words. We have different centers (reading center, table toys center, blocks center, etc) around the classroom that the children take turns and play at daily
What is the process for communication with parents, and how often will I receive updates about my child's progress?
Parent/Teacher communication is very important to us. Everyday we will fill out a daily sheet to tell you about your child's day and our staff will also talk to you about your child's day at pickup.
What is the school's policy on discipline and behavior management?
We care for and support each child socially, emotionally, and physically. We are constantly praising the children, encouraging them, and having fun together.
How does the school handle allergies and special dietary needs?
We ask parents to provide us with a allergy report and we come up with ICCPP plan for the child. We trin all staff on the plan. The allergy is posted in the classrooms and kitchen. Each year we review the ICCPP plan and train all staff.